Demon Slayer Addon 1.20 - Minecraft PE/Bedrock Mods
Are you a big fan of Demon Slayer? Are you also a pretty big fan of Minecraft? Well well well, the Demon Slayer addon is just the thing you're looking for. We'll let you know what to do for the Demon Slayer Minecraft download without spending a single penny.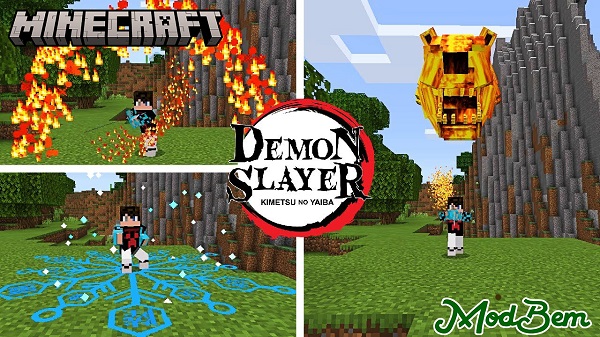 The mesmerizing Demon Slayer Minecraft addon is here now. It introduces tons of new quests, skills, weapons, families, and styles to the game. If you have completed normal survival mode and are looking for a new challenge to spice up your gameplay, Demon Slayer Minecraft is the best addon for you.
The is fully operational on all versions of Minecraft with tons of content added to the game and allows you to complete your life cycle as a demon slayer.
What To Expect From Demon Slayer In Minecraft
Demon Slayer addon is such a different vibe from the normal game, as soon as you load in, you will be assigned a family out of the 14 available, and depending on the family you get, you will have special abilities.
Once you do this you still won't be a demon slayer so to join the demon slayer corps you need a breath book that can be obtained from loot or a Hashira that is around in your world. Right-click on them to obtain a quest.
Once you complete this quest you will get a breathing book and some skill points. These skill points can be used in your skill tree (present as books in your inventory at spawn) to enhance your fighting skills, upgrade existing breathing techniques, learn new breathing techniques, increase speed, max health, resistances, and various other stats.
You can also choose your fighting styles, the current styles available in the form of swords are:
Katana/Kendo

Great sword.
Dual greatsword..

Scythe.

Knuckles.
All these swords have different move sets and styles that you can play around with.
The has excellent functionality but if you are concerned about anything or something isn't working properly, you can look at their Trello page.
PC, iOS, and Android will be able to run this whether you have the Demon Slayer addon Bedrock version, the Demon Slayer addon PE version, or the Demons Slayer APK Minecraft.