Eternal Shaders 1.19+
Eternal Shaders Addon provides a graphics improvement, including realistic lighting effects, shadows, reflections, dynamic water, new moving animations, and HD textures.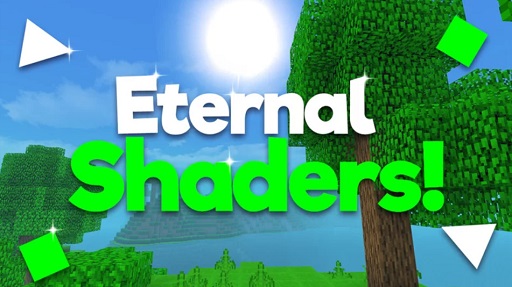 Eternal Shaders Addon – Level Up Your Graphics with RTX Shaders
Eternal Shaders MCPE is the mod that provides a graphics improvement featuring realistic lighting effects, shadows, reflections, and dynamic water. The addon also adds new moving animations and HD textures. Overall, it affects the whole game. If you are looking for a Minecraft graphics addon that significantly improves your world, then this Eternal Shaders Minecraft shouldn't be missed!
First, Eternal Shaders Addon provides an HD texture for a more detailed and crisp image. Once installed, this addon changes the way you look by making the scenes more precise and comprehensive, although the essence of vanilla Minecraft remains original.
The mod's various graphics options (Lite, HD, and UHD) are among its most outstanding features. The UHD is recommended since it has all of the latest features, whereas the HD and Lite versions have certain limitations. Whether you have an outdated or high-spec device, the shader will be configured to fit it best.
Moreover, Eternal Shaders Texture Pack increases the graphics by leveling up the lighting effects, shadows, reflections, and dynamic water. The good pictures make the view as realistic as possible, mainly the foliage, making leaves naturally sway gracefully in the wind. The shadow of objects reflects significantly compared to the vanilla version. The fog is also optimized substantially, and so are the biomes. The water is more dynamic, and not to mention that advanced lighting effects are applied, such as underwater lighting glow.
The moon appears unbelievably lifelike if you wait for the sky to turn into night, or when the day is coming, you will see the moon going down slowly and the sun coming up on the other side. That scenery will undoubtedly take your breath away.
Eternal Shaders Addon is considered one of the greatest shaders available on Render-Dragon, thanks to its noticeable features. Get Eternal Shaders Minecraft Download by the link below and enhance your gameplay experience!
Supported Minecraft Versions
1.19.60.03 - 1.19.50 - 1.19.40 - 1.19.30 - 1.19.20 - 1.19.10 - 1.19