Ice And Fire Addon 1.20 - Minecraft PE/Bedrock Mods
Want to get your hands on the Ice and Fire: Dragons in Minecraft? You've come to the right place to download the for your iOS, Android, or Windows device for absolutely free.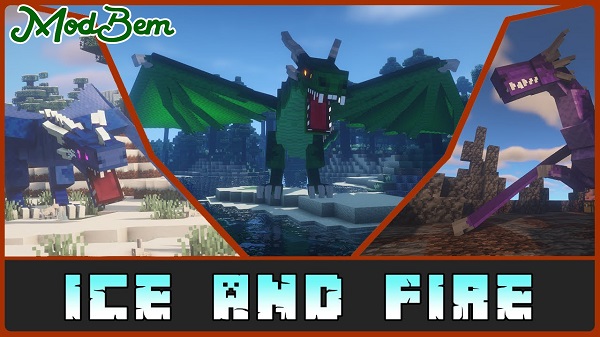 Minecraft is already a fantastic game, but do you know what makes an excellent game even better? Dragons! Two of them! If that sounds like something you can get behind, you are in luck! The Ice and Fire addon MCPE has you covered. It is also known as the Ice and Fire addon MCPE 1.19 to highlight the compatible versions of the game.
The Ice and Fire addon is for adventurous players who want more spice in their Minecraft realms. What better way to do that than to add two worthy and diverse opponents to kill the time? The Ice and Fire Minecraft PE might just be what you are missing. Let's take a look!
Ice and Fire Mods Minecraft
The Ice and Fire addon mods were developed by Raptorfarian and Alexthe666 for Minecraft. There are only a few brave souls in the world of Minecraft who can best these gargantuan beasts. Are you one of them? Before you can be on your merry way battling them, here is all you need to know about the Ice and Fire addon Bedrock edition:
Created by Raptorfarian and Alexthe666

Adds two dragons in your Minecraft world

These are the Ice and Fire dragons
The Ice Dragon spawns in cold uninhabited areas and freezes enemies to death

The Fire Dragon is comparatively common and burns his enemies

Both spawn in their adult forms

More dragons like the Lightning Dragon might be finding their way into the game soon!
Taking all of this into consideration, the Ice and Fire Minecraft 1.19 is perfect for players who want more thrill in their world and do not want to go through the hassle of making their way to the Ender Dragon for the coveted thrill of slaying beasts.
Conclusion
That wraps up today's article on the Ice and Fire Minecraft PE in Minecraft. It is definitely something you can enjoy the game without, but sometimes we all crave that kick for fun. It is worth it and a good investment. Good luck, gamer!