Naruto Addon 1.20 - Minecraft PE/Bedrock Mods
The Naruto Minecraft addon will bring you all your favorite characters in your game. With new powers, work on to take the mantle of Hokage and defeat enemies!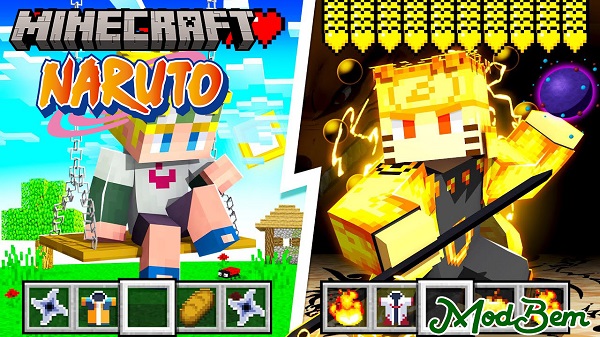 Most of us have grown up with that ONE anime and love to see it integrated into our favorite games. If you're here, you're probably a Naruto fan, looking for perhaps a Naruto addon to add the ninja flavor to your Minecraft's vanilla experience.
What you get is a chance to journey through a modified world of Minecraft that now has Sasuke. You can use the Sharingan and Byakugan along with other cool ninja stuff in the Naruto addon MCPE 1.19.
All the Features You Get With the Naruto Minecraft Addon
Once you have the Naruto Addon MCPE download, you'll have access to 50 different models as well as a story mode and jutsus! You can use new weapons and a variety of ninja abilities that will help you in completing the Naruto addon MCPE campaign.
New Weapons Fit for a Ninja!
You can throw exploding shurikens, kunai and even use Sasuke's sword. Most exploding weapons will alter the terrain around you as well in the Naruto addon for Minecraft PE. To be able to fend off most of the foes in the world, you'll have to craft special armor.
New Powers!
As you wield the power of a ninja, so do the enemies you'll face and will be using similar secret techniques to fight you off in the Naruto addon 1.19.
Your Favorite Naruto Characters!
You can find all the main characters from the anime in the game after installing the Naruto addon for Minecraft 1.19. There will be representatives of specific villages and clans and they will assist you in your journey.
Traverse at fast speeds across the newly transformed land of Minecraft and defeat enemies using Chakras that allow you to deal huge amounts of damage to your opponent.
The Naruto addon download is available for all platforms; PC, Android and iOS. You can install it to whichever version of Minecraft you like and embark on your adventure to become the Hokage!