Naruto Jedy Addon 1.20 - Minecraft PE/Bedrock Mods
Naruto Jedy Addon Minecraft PE Download- a mod that allows players to customize Minecraft world into Naturo world, including gameplay, HUD system, outfits, battle fights, skills, and so on.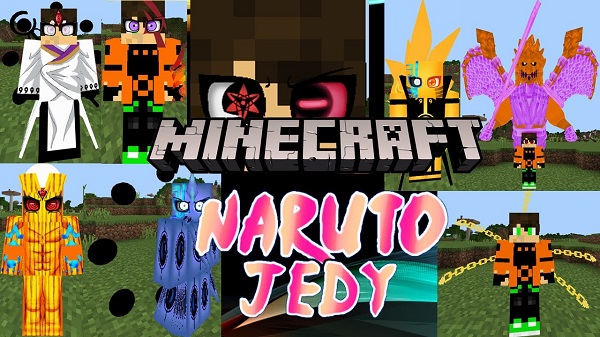 Naruto Jedy Addon - Bringing the Naruto Universe into Minecraft
What if there has been an amazing combination between Minecraft and Naruto? What if you morph your Minecraft character into Naruto or Boruto and battle against the bad? That is no longer a myth thanks to this Naruto Jedy mod - everything in Naruto becomes real.
Naruto Jedy Mod Minecraft will turn how traditional you used to play in Minecraft into a new world of anime. Not only character appearance, but also new hostile mobs, gameplay, and HUD systems as well.
The HUD system although it accounts for a quite large part of the screen, it's a big improvement to show your stats, including:
HP: your health, is shown by the number of hearths remaining.

Nivel: indicate your chakra limit. Your chakra level can be raised by crafting 9 Giga chakra to Fruto De Chakra.

CHK: the chakra used for Jutsus. To recharge chakra, hold SHIFT.

SPINS: these are points for getting Genkais from the Genkais menu. Spins can be obtained by TP in Loja Shinobi.

TP: known as currency. TP can be obtained by killing mobs and trading items they dropped.
The 9 Bijuus Beast also appears in Naruto Jedy Mod Minecraft, with an exact look like the original one. These beasts retain their power so be careful!
The outfit provided by Naruto Jedy Minecraft PE is obviously the part that is to be noticed. You can convert your characters to anyone in the original Naruto: Naruto, Sasuke, Akatsuki, Obito…whoever you prefer.
If the costume only changes your look, then the bypassed modes enhance your strength. With tons of modes to choose from, each of them offers different stats, your characters will be powerful. Susanoo Jedy Forma 4, Susanoo Itachi Forma 2, Susanoo Shinsui Forma 4, and Susanoo Indra Forma 5 are our top selections!
Besides these incredible features, Naruto Jedy Addon Minecraft also offers others: Bijuus, Ryō, Jinchuuriki, and Kekkei Genkais…, which are no doubt the vital parts to fulfill the Naruto world. So without further ado, let's click the link below to get your Naruto Jedy download!